Pattern of Damask steel
Welcome to Eggerling Mosaic Damascus Steel
Contact Eggerling Mosaic Damascus Steel for pricing and sizes at Our Email | (610) 451-6784
Made in Pennsylvania USA
Robert Eggerling Mosiac Damascus
Eggerling Mosiac Damascus Steel is known all over the world for unique, hand-forged Mosiac Damascus steel knives. Used by many of the top knifemakers in beautiful collector and durable custom knives, our patterns are unique and always different. All of our Damascus steel billets for sale are made of Carbon Steel and nickle to provide beautiful patterns for acid etching or heat bluing. Our hand forged Damascus is made in the USA and perfect for your next blacksmithing work.
Quality Products
Eggerling produces steel made in the USA, Pennsylvania, and hand forged by Robert Eggerling, master blacksmith. Robert designs all the Damascus patterns and makes them himself. He makes Mosaic Damascus Steel for knifemakers, steel for forging or blacksmithing it into tools or works of art.
Unique Mosaic Patterns
Check out our Items in Stock for Availability below. Contact us for pricing and ordering.
eggerling shop pictures 007
eggerling shop pictures 001
eggerling shop pictures 002
eggerling shop pictures 004
What It's Made Of
---
Robert Eggerling is from Mertztown Pennsylvania, USA and has been making Mosaic Damascus Steel for over 25 years. He is a Master of this craft and is known worldwide for his unique steel patterns. He produces handmade Damascus Steel billets for knife blades, bolsters and many other uses. Robert attends some of the major knife shows and exhibits his steel billets for sale. Through this web site we hope to also make his steel more widely known and distributed. Robert makes custom patterns on request at times so don't be afraid to ask if you have something special in mind.
Robert builds his own forges and hydraulic presses and constantly develops new patterns and equipment to aid in the craft of forging this steel into an art form unlike any other. We occasionally list steel billets auction pieces on EBay but you can also request pieces to purchase by contacting us through this web site. Eggerling's own handmade knives are available to purchase as well.
Other interesting uses for this Damascus steel have been for custom tattoo machines, golf putters, jewelry, artwork, and custom pens. Some photos are in our gallery.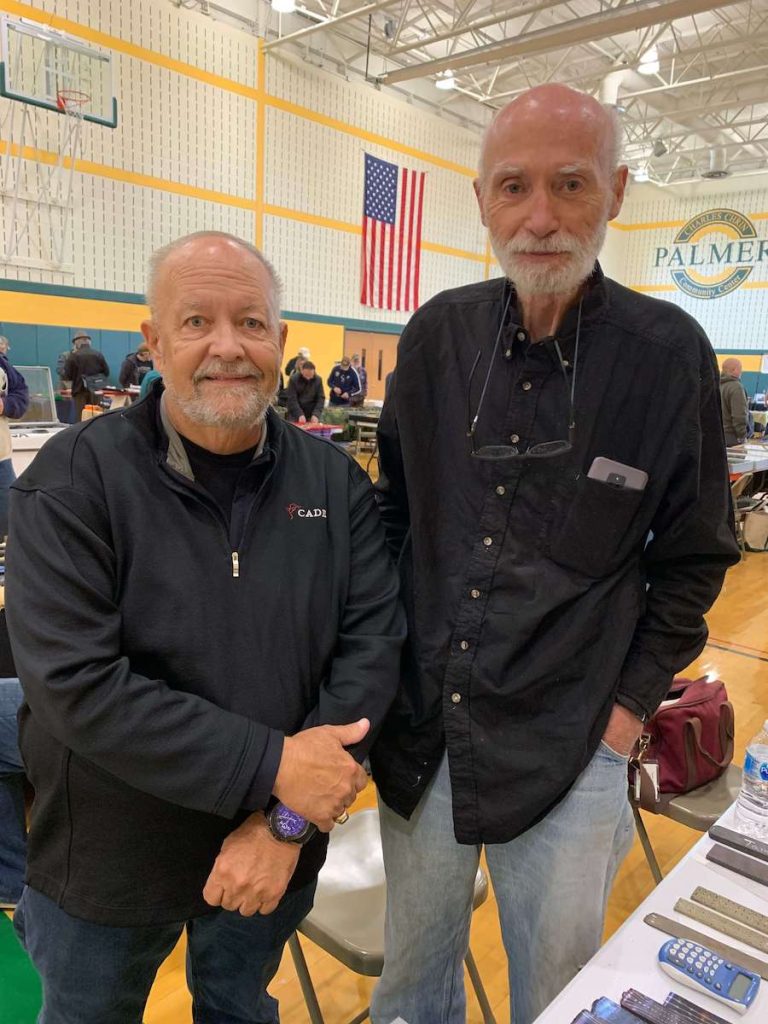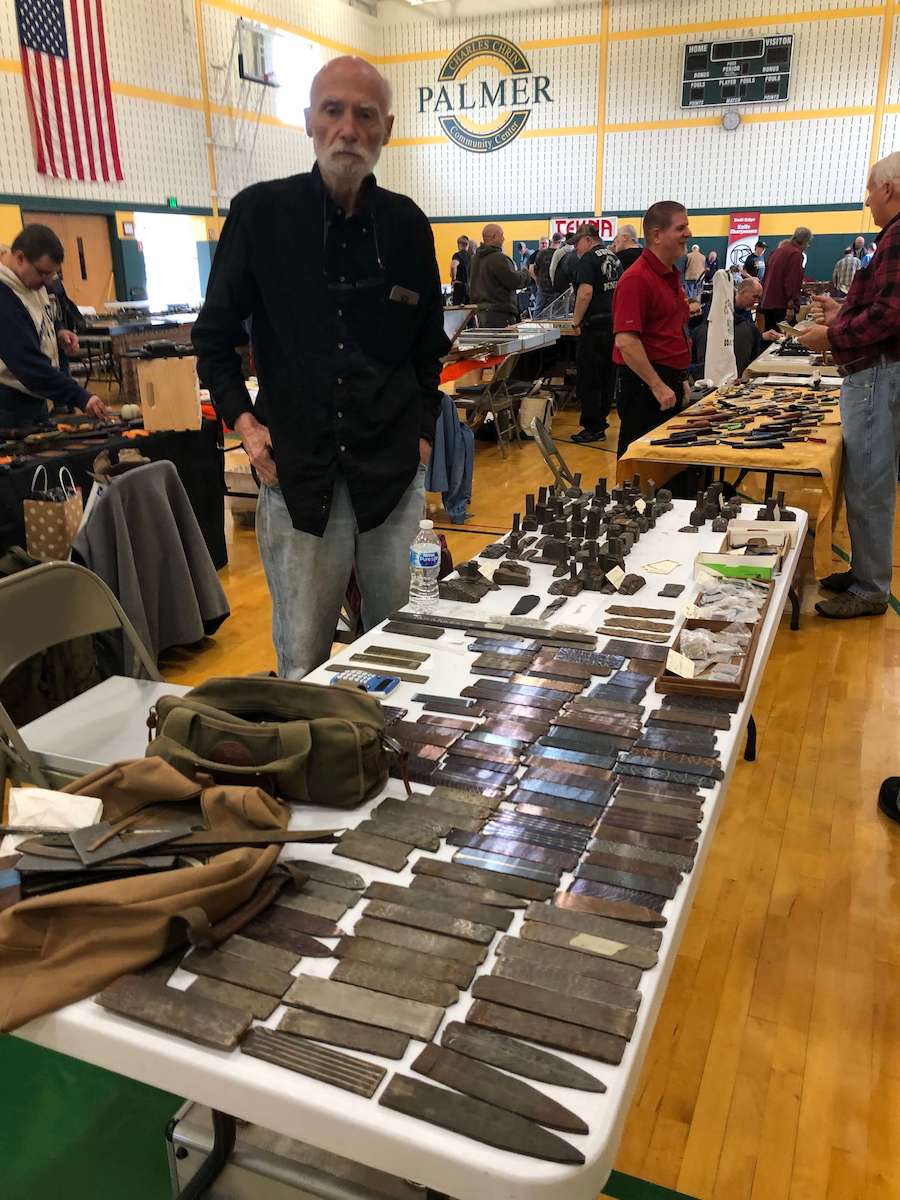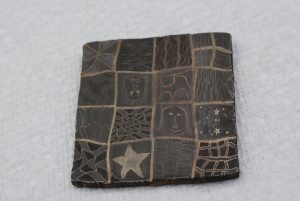 Items in Stock:
Current Steel Billets for sale.
Eggerling handmade knives with sheaths also available for sale.
Small $90, Medium $120, Large $150.
Call or email for sale:
info@eggerlingdamascus.com | (610) 451-6784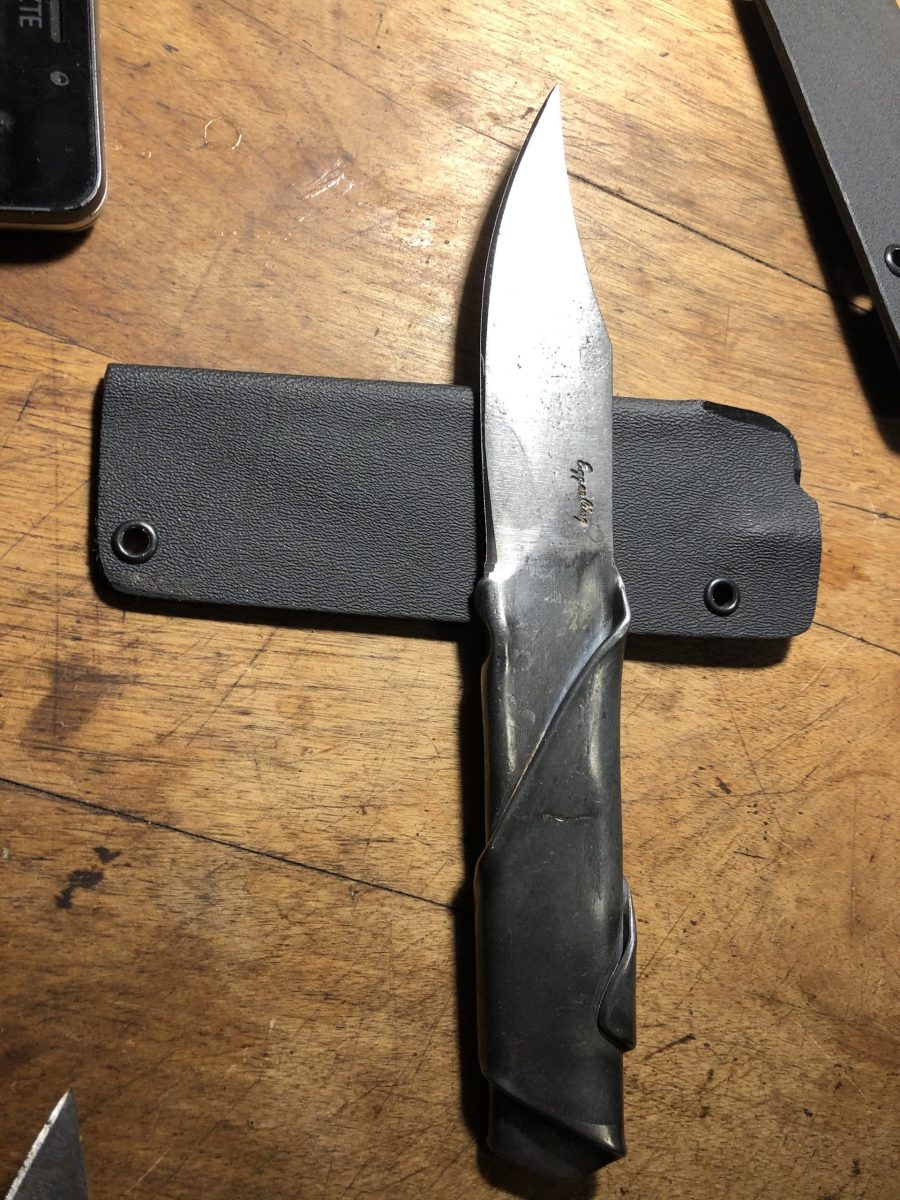 NOTE: This new billet has 20 pieces in stock. Please contact us with any questions.
Available pieces made by Robert Calcinore
Stay Connected
Send us your email address to get up to date information on new pattern releases.
Featured in this Documentary

We are pleased to share this interesting documentary video about Mr. Robert Eggerling and his Mosiac Damascus. Cabot Guns has been doing business with us for quite a while now and they are using the Eggerling Mosiac Damascus in their products. We thought you might like to check out this awesome video about Robert and how he makes his Damascus.
Damascus Forging Video
Mr. Eggerling is a master at Mosiac Damascus Steel Forging. His unique patterns are used by many famous knifemakers around the world.
The Damascus Project
Mr. Eggerling explains how he got started in making Mosiac Damascus and how his famous "Windmill" Pattern is made.
Making Eggerling Mosiac Damascus - Quilt Pattern
Mr. Robert Eggerling forging a Mosiac Damascus Steel Billet
Recent Show Pictures
NEW Damascus Triagle Pattern Billet
The Cabot OAK Program & Eggerling Mosaic Damascus
The Voyager 1911
The Commander King 1911
Looking for an Owner! Imagination Required
Gallery of OAK Cabot Guns
Eggerling Damascus was at a show recently. Keep an eye out for future show announcements so you can stop by and see more work!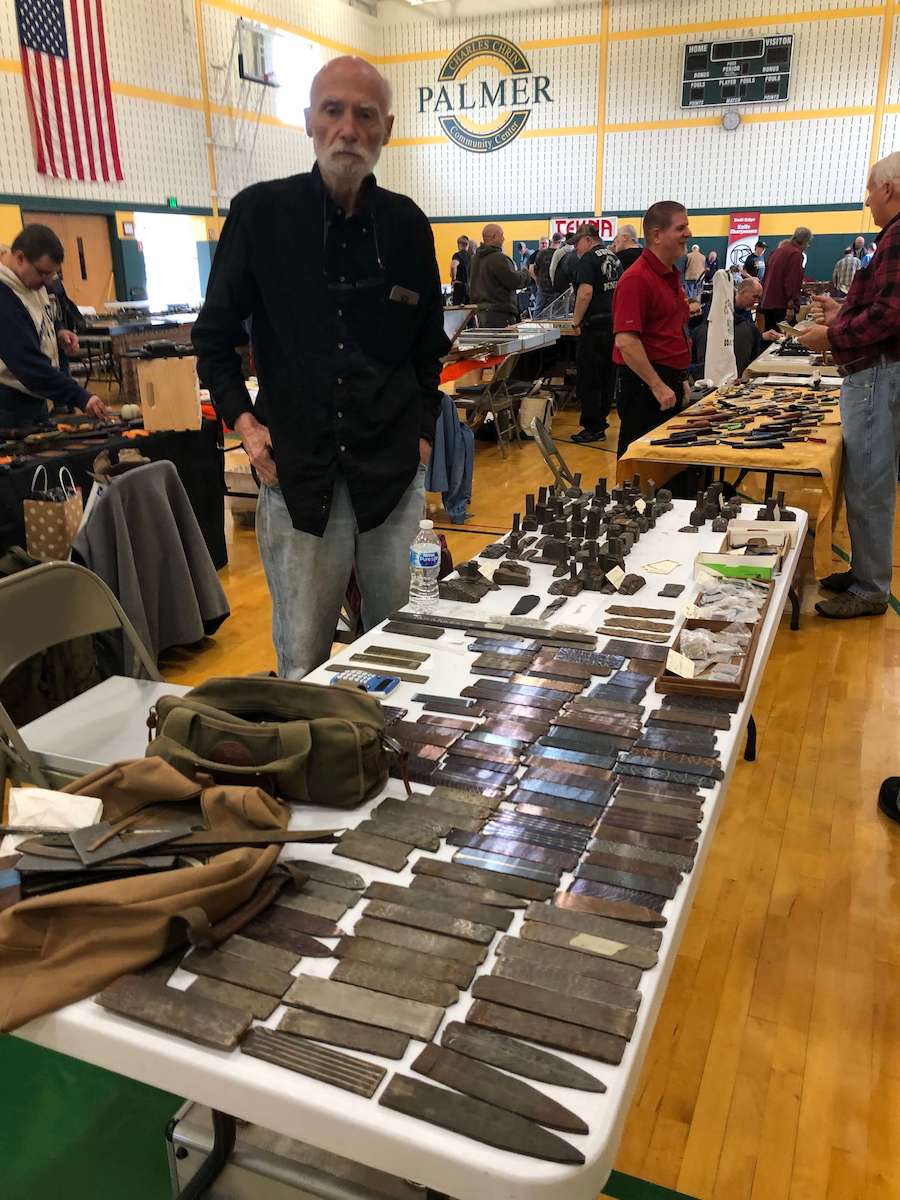 eggerling-knife-show-table(1)
eggerling-knife-show-meeting-people(1)
damascus-steel-flip-knife-accents(1)
Hello,
Robert Eggerling was experimenting with Mosiac Damascus Forging and decided that he hasn't seen any made with triangular shapes so he made an equilateral triangle die for his hydraulic press and went to town experimenting.
He first made some layer damascus billets with 1084 and sheets of thin nickle. He cut those into pieces that would fit into the triangular die without squeezing over when pressed into the triangular die. After pressing several pieces into shape they were cut into equal lengths, ground clean, and re-assembled as shown in the pattern below. Pieces of a bit thicker sheet nickle were inserted between each triangular block and the forge welded together. Blocks were the re-forged into triangular shapes and again forge welded together in this pattern. It was then drawn down to 1.25" x 6" and can be sawn into slices for knife blades.
We will have some available at the 2021 Blade Show in Atlanta June 4-6.
Comments are appreciated. Let us know what you think through the below form, through email info@eggerlingdamascus.com, or on Facebook.
Dear Robert,
What a year! Despite the challenging environment we have been busy here at Cabot and are blessed to have work that keeps our team moving forward. We have not experienced any Coronavirus and for that we are grateful. Each day we have stayed focused on our mission to craft the finest 100% American Made pistols.
Our Cabot OAK (one-of-a-kind) program continues to provide us with challenging commissioned work. These builds represent out most exclusive work and generally involve rare materials along with elevated finished techniques. Two examples are the Voyager 1911 and The Commander King pistol which we added to the OAK Collection page today. To see more of these pistols please click on their respective names.
The Voyager 1911
Mankind has always dreamed of exploring time. Our past holds rich history and cherished memories. The future, a promise of an exciting unknown. Cabot's Voyager 1911 represents the apex of just such a journey - Billions of years in the making - a stunning pistol truly ahead of its time. Eons ago, the now-exquisitely finished material used for the Voyager's grips was created. The meteorite grips are the culmination of Cabot's knowledge on finishing techniques that draw out both the vibrant colors and the spectacular crystalline Widmanstätten pattern.
The Commander King 1911
An exclusive commission from Cabot Guns featuring custom serial number: DAMASCUS001
Alexander the Great conquered Damascus in 333 BC. The young emperor, widely recognized as the greatest commander king in history, undefeated in battle, forged a kingdom that spanned cultures and continents.
Roughly 1,200 years after Alexander added the former Aramaic kingdom to his historic list of conquests, the first renowned "Damascus Steel" swords were made. Although the ancient process used to forge the original Damascus steel has been lost in the mists of time, modern-day craftsmen—including world-renowned master blacksmith Robert Eggerling—have recaptured much of the exacting art of its creation.
The Cabot Commander King is a classic Commander-size pistol and, in that format, likely the finest Commander-style 1911 we have ever crafted.
The Commander King's slide, trigger, and grips were shaped and finished from an exquisite block of Eggerling's Mosaic Damascus and the complexity of the pattern is truly striking. Befitting this one-of-a-kind 1911, it is chambered in the Lord's caliber, .45 ACP, with an embedded diamond front sight that sparkles enticingly, both beautiful and functional.
2,400 years after Alexander built his empire, we believe this Cabot 1911 is worthy of the title: Commander King.
We have this exquisite Damascus crafted by renowned Mast Blacksmith Robert Eggerling. Those who know, know. Eggerling is one of the most heralded artisans of Damascus in the world. The billets shown above are commissioned materials that were over a year in the making and are large enough to create two pistols with slides AND frames in this extraordinary material. Only two will ever exist and we have never before had the possibility of crafting a full Eggerling Damascus pistol. If you are interested in commissioning one or both of these Eggerling Damascus pistols, now is your opportunity. The cost for each pistol is approximately $50,000 and can vary depending on the finish details which we will develop together.
For examples of previous pistols crafted from Robert Eggerling Damascus, please see our Eggerling Mosaic Pistols or the Wolf Pistol Set.